This article adapted from socialjustice.nsbe.org.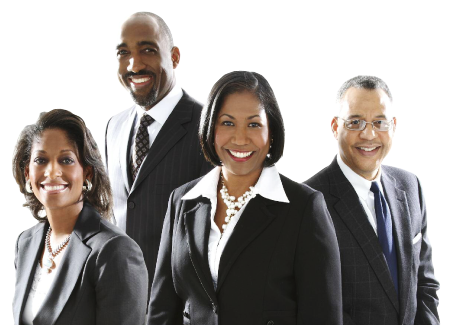 A National Reckoning About Race
The killings of George Floyd, Breonna Taylor, Ahmaud Arbery and others by police and neighborhood vigilantes have led to an unprecedented reckoning in the United States about its sordid history and racist practices that touch every sector of our society. In the wake of global protests for racial justice, billions have been pledged, and thousands of companies, institutions, and associations have made commitments to dismantle systemic racism and work toward social justice.
Not surprisingly, even as countless organizations have publicly made statements in solidarity with these efforts, what is lacking is a concerted approach to bring about structural change—to turn pledges into lasting change.
Producing inclusive workplaces and communities requires a methodical and sustained effort to disentangle years of policies, practices, and behaviors that have privileged some and subjugated others. As management expert Dr. Edwards Deming notes, "Every system is perfectly designed to produce the results it gets."
Therefore, to change the results, we must work to change the systems that produce them.
The following framework and action plan will help organizations operationalize their commitments to racial equity.
What Can Organizations Do?
Companies, agencies, schools, and associations should consider focusing their Diversity, Equity, and Inclusion (DEI) efforts in five areas:
Diversity: Work to achieve representative numbers of Blacks at all levels of the organization, including the board of directors.
Equity: Document patterns and work to achieve parity on key employee statistics, including recruitment, offers, hiring, compensation, tenure, key assignments, promotions, bonuses, EOC complaints, departures, and terminations; audit policies and procedures that reinforce inequities.
Inclusion: Foster an anti-racist institutional culture that mitigates microaggressions and implicit and explicit biases through mandatory training, surveys, and frequent conversations about race hosted by senior officials.
Ecosystems: Ensure that hiring of suppliers and subcontractors; sponsorships; philanthropy; diversity partnerships; and policy agenda are equitable and publicly available.
Data Dashboard: Create and publish a dashboard built on a structured data model that captures and presents institutional DEI metrics against industry averages to increase transparency and accountability.
The Black IDEA Coalition, in partnership with Kanarys DEI data analytics firm, has taken this model one step further, by recommending specific steps organizations can take to mitigate systemic obstacles and foster more equity and inclusivity.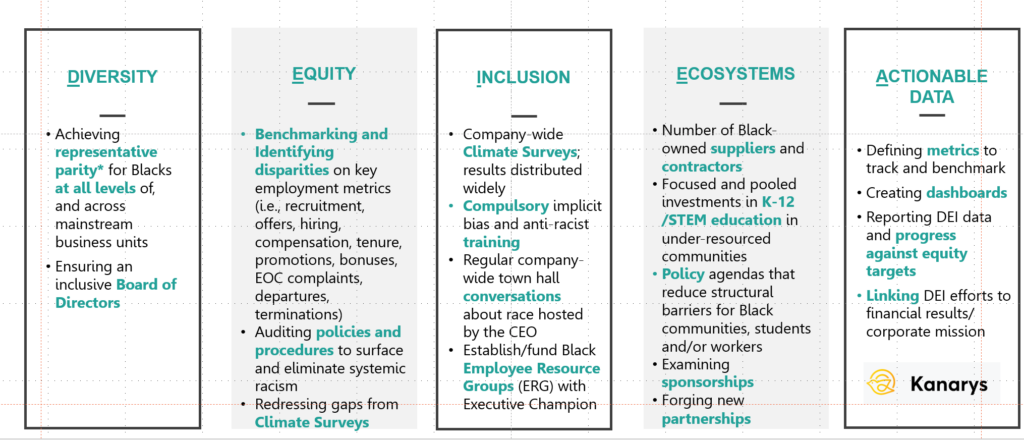 Now Is The Time!
Systemic racism is a complex problem that's produced interwoven structures of laws, policies, economies, attitudes, and behaviors that began when the first Africans were sold on these shores in 1619. It's not surprising that our Founding Fathers who were deeply entrenched with privilege and white supremacy could advocate in clear conscience for a government that "ought to be so constituted as to protect the minority of the opulent against the majority."[1]
To change the results, to dismantle these systems and truly foster equity, it will take years of concerted efforts. But as the Chinese philosopher Lao Tzu wrote translated here, "a journey of a thousand miles begins with a single step."
---